About Cherokee Plantation
Cherokee Plantation is a remarkable, private, multifamily country retreat for outdoor sporting and indoor relaxation where luxury and leisure intersect on 7,000 enchanting acres in Yemassee, South Carolina.
Magnificent live oaks, formal gardens, rice fields, and the banks of the pristine Combahee River set the backdrop for two dozen owners, their families, and invited guests to immerse in exclusive use of outdoor exploration, carriage rides and equestrian facilities, golfing, hunting & shooting, and extensive other sporting pursuits without distraction. Indoor day spa amenities provide peace and pampering within easy walking distance of the magnificent Georgian-style Main House steeped in Southern tradition. Charming cottages dot the nearby landscape to offer privacy and informality without sacrificing access to extensive treasures on the sprawling plantation.
Welcome to Cherokee Plantation, one of the world's finest private sporting and leisure estates, with a history as rich as its beauty.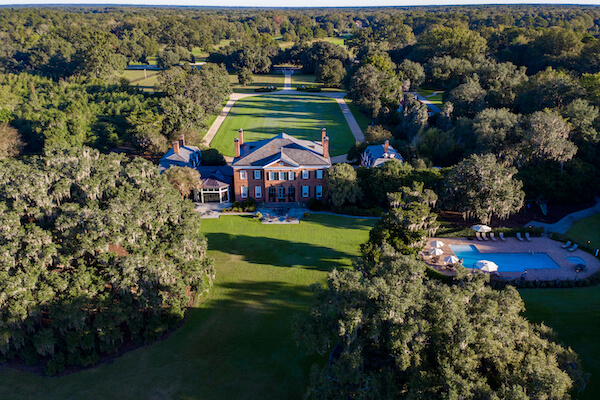 History
Cherokee Plantation's royal roots date back to a grant from King William III of England in 1690 and the subsequent construction of a residence on the grounds in 1710. The land's excellent soil, exceptional yields, and scenic beauty earned it the name "Pearl of the Lowcountry" during its ownership by the Daniel Blake family, who was instrumental in the history of South Carolina and whose original plantation home on the premise was in the family for 200 years.
In 1930, the plantation was acquired, restored, and transformed into the finest sporting estate of its kind in the United States by W.R. and Caroline Coe, who commissioned the preeminent landscape architect firm of Fredrick Law Olmstead. Avid horticulturists, the Coes changed the estate's name to Cherokee Plantation in homage to the area's native and beloved Cherokee rose.
After Coe's death, the Williams Furniture Company purchased the plantation for its timber parcels and sold the sporting acreage and stately plantation home in the early-1950s to R. L. Huffines, Jr., President of Burlington Industries and a Director of ABC Television. A-list celebrities were entertained on the grounds, and the plantation also was used to breed and train thoroughbred hunter-jumpers and racehorses.
The next owner, Robert Evans, President of American Motors, retreated frequently to the property and named the Cherokee Jeep after the plantation during his corporate tenure. The plantation took on different meaning when its next owner, German textile manufacturer Hans Joachim Nerlich, was drawn to its pastoral, pristine setting for innovative agricultural projects. A true gem, the property again changed hands in 1987 to a Philadelphia sportsman who added a premier equestrian facility and earned a reputation for best-of-breed national champions.
The future of Cherokee Plantation changed in 1998 with its purchase by a cadre of current owners to create a private country retreat of unparalleled luxury and charm. More than $52 million has since been injected to heighten amenities, restore leisure resources to their original splendor, and enhance the plantation's grace and elegance.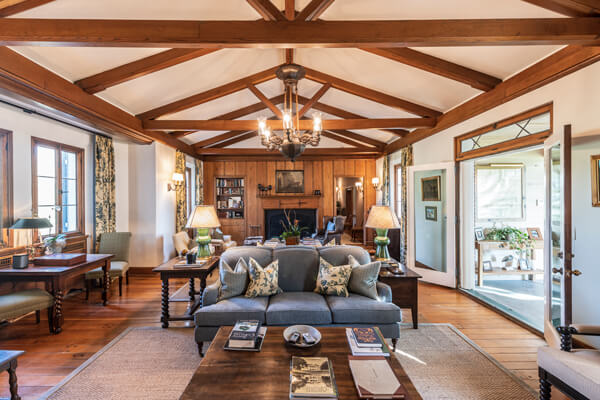 The Main House
The plantation's inviting, fence-lined entrance leads to the heartbeat of the Southern plantation: the prominent Main House with sweeping views of one of the most beautiful, historical settings the world offers. Here, families create lasting memories, live their dreams, and write their multi-generation histories.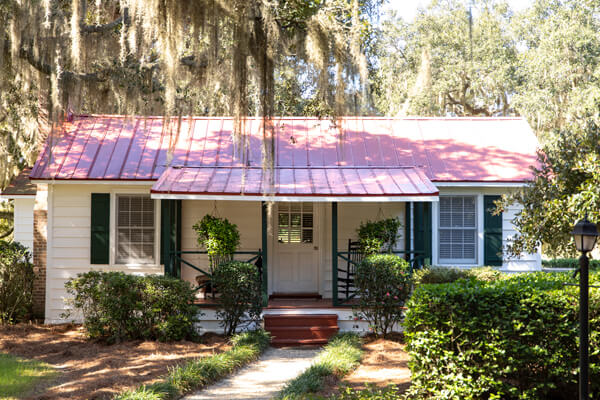 The Cottages
Five cottages provide additional housing for those seeking more private accommodations, including extended families and those with small children, beloved pets, and accompanying household staff. With ample space to run and play, the cottages range from one to four bedrooms and provide charming gathering spaces, full kitchens, and inviting porches for memory making.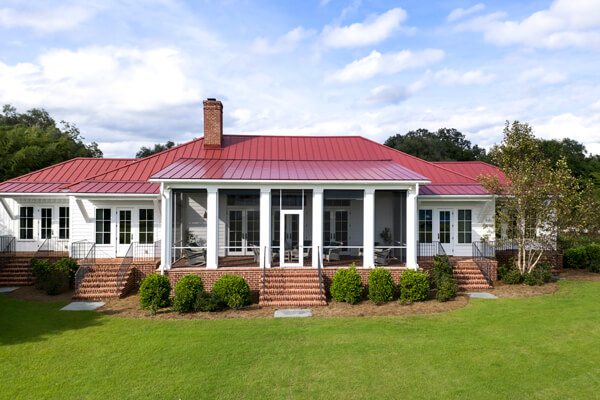 Personal Residences
The sheer size of the plantation lends itself to private member residences, an option available to every member. There are several private homes on the expansive plantation, yielding unique opportunities to retreat at the highest level of privacy and personalization.

Food & Beverage
Conversation, laughter, and connections shared over food and beverage create lingering memories. Chef-prepared meals are meticulously prepared to accommodate sophisticated and selective palettes alike. The Main House dining room has witnessed countless gatherings of several generations who've shared elegant dining experiences. More casual dining in the golf house greets families for early-morning pancakes, midday pimento cheese, and lunch time fried chicken, crab cakes and casual dining throughout the day.
Outdoors, Cherokee Plantation's Adirondack-style Boat House provides unique cookouts for casual oyster roasts, barbeques, and Lowcountry meals around the fire pit.
Whatever and wherever the occasion, beverages ranging from lemonade for younger guests to wine, spirits, and handcrafted cocktails for adults are served with utmost style to provide refreshment and relaxation.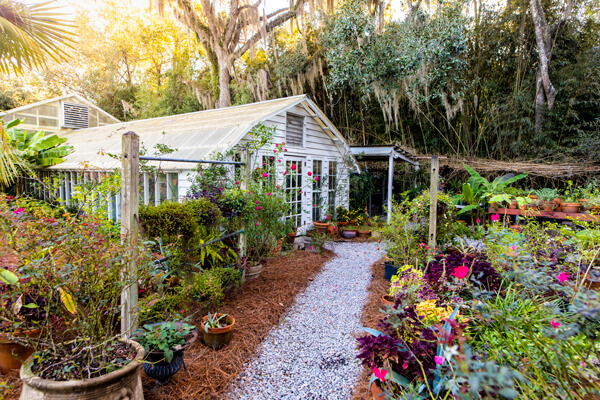 Gardens
The Coe's legacy of horticulture has been preserved through meticulous maintenance of the plantation's gardens and green spaces. Valued in the millions, a three-acre garden of camellia's includes rare, treasured strains that date to the 1800s. The plantation boasts centuries-old live oaks and magnolias, while camellias, azaleas, herbs, and native species salute the plantation's original ornamental flowers and plants. Garden discussions held in the expansive greenhouse provide hands-on opportunities to explore the botanical wonders of nature.